By Isaac G.
Ask most musicians why they do it and they will give you the same, lame, answer: "Yeah, man. I'm totally in it for the music." Come on, why are you really in it? "Okay, you got me. I'm in it for the road sluts." That's right; the sole existence of music revolves around those glorious pixies willing to strut around backstage in their skirts and glitter, waiting to be ravaged by their rock idols. Here are the top-five most recognizable groupie types, as published in one of academia's most revered scientific journals: "The Traveling Pussy"
The Trailer Terror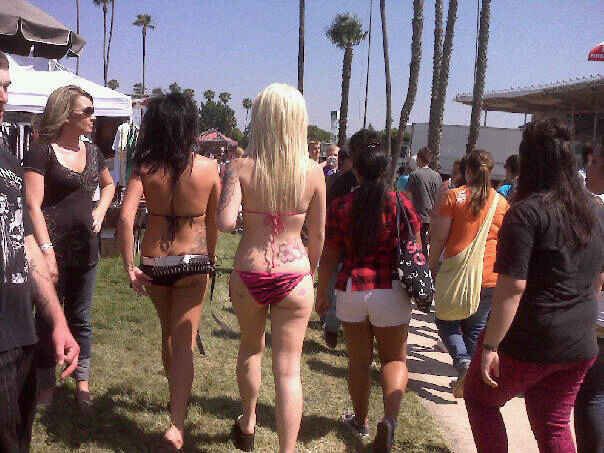 Be very wary of the trailer terror. They usually travel in packs and reek of poverty. Their clothes will most likely be from K-mart and their accessories will be tacky and garish. They may look hot, but they will most likely contain some form of the herps and will promptly badger you for a Hot Pocket when you are done. These working-poor groupies are trashy but amusing. They are easily identifiable, for they all contain a very specific brand on their lower back, commonly referred to as the "tramp stamp." Their aspirations usually consist of being on VH1's "Rock of Love" and getting to bone Bret Michaels.
The Wrist Cutter

This breed of groupie is all the rage right now due to the pitiful state of rock music. When not on Myspace or blogging about personal demons, these dour Debbies spend their time perusing stadiums for musicians in black guy-liner. Be advised that Wrist Cutters — or Emo Cum Dumpsters (ECD's) as they are colloquially known in some circles— usually demand bizarre sexual behavior. Some of the requisite fetishes of the ECD's include: reciting Edgar Allan Poe poetry while fondling your scrotum, updating their LJ mid-coitus, and yelling, "you just don't get me!" during climax. ECD's can be freaks in the back of a tour bus but carry more baggage than Led Zeppelin's tour jet could ever contain. Life is pain [insert frowny face]. Sigh.
The Rebellious Princess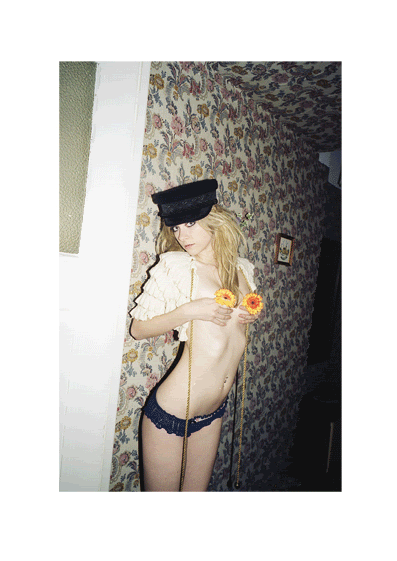 This is by far the most dangerous of the groupies. They are girl-next-door types who are just dying to jump off of their pink canopy beds and into the laps of bad-boy rockers. These girls are usually in the "experimental" part of their lives and will grow up to be respectable women, which means they will probably think you are a loser by the time they are twenty-five. Thus, be sure to take advantage of them now while they are still ripe and dumb. But axe-slingers beware, whereas other groupies might take your dignity, these bright-eyed vixens are fully capable of taking your heart. Think Kate Hudson as "Penny Lane" in Cameron Crowe's Almost Famous.
The Midwestern Chubby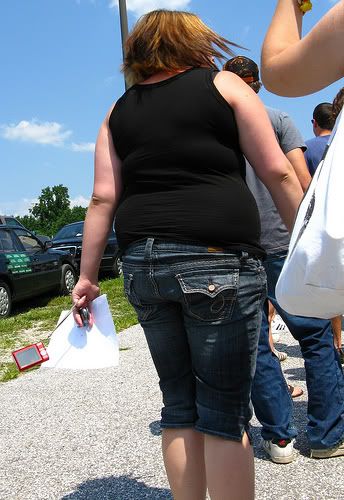 The Midwestern Chubby is the most abundant and plentiful creature in the groupie kingdom. They are like a heard of bison roaming around summer festivals looking to gobble up as much rock star pud as humanly possible. Usually hailing from Kansas, Ohio, or Nebraska they have nothing better to do then try and test your Yager-goggles. One of their most definable characteristics is their propensity for "blumpkins." MC's are useful when a band feels sorry that their roadies are not getting any. Hence, it is not uncommon for a band member to say: "I got you, man. Here's a Midwestern Chubby. She gives great dome." Roadie: "Thanks, that's so thoughtful. By the way, I changed the strings on your Telecaster, should be good now."
The Rapper's Delight
Let's face the crunk juice: these days rap stars ARE the rock stars. No scientific inquiry into groupie classification would be complete without the badonkadonk-shaking, Weezy-loving, Rihanna-defending, queen B's. Hipsters and their anti-materialism shtick need not apply. These gals gravitate toward cash money millionaires with mad bread to break up. The scrappiest of all groupie types, they are likely to kick you where it hurts if you get out of line. RD's are known to utter these glorious words after sex: "Yo, got any chronic?" Hell, yeah, I got chronic. BITCH.
(Snake and Fizz are rockstars and the twisted wankers behind this site. Follow them on Twitter.)